Traveling was a pleasure. At least, until the invention of economy class airplanes. Since then, spending twelve hours in a pressurized tube in a seat half the size of your butt has become the torture needed to enjoy a vacation afterward.
Here are things I usually avoid doing when I'm on a plane. In case they make the torture more bearable (though I don't think so):
Pissing you off at the check-in desk
Whether you're right or wrong, never set up the check-in counter staff. You have everything to lose. If the plane arrives late, the suitcase was left on the previous connection or the Boing's engine is broken, they're not to blame either… but they do have the power of decision over many things that affect you. I assure you that you get more from a smile or a please than from shouting.
Believe the urban legends that circulate on the Internet
In many websites it is assured that there are days of the week when tickets are cheaper, that these become more expensive with the same search engine, etc. The copy/paste in this type of articles is amazing. Industry experts say no, the cheapest tickets are not found on Tuesdays. And another no, the airlines do not charge prices once a week.
Prices are set in a general way and changes are the result of supply and demand. Don't be obsessed with cookies either; if you consult a browser several times for the same flight, the ticket price will not change because of it. Another thing is that it takes you several days to check again and the fare has changed depending on availability.
Waiting to check in at the airport
Whenever you can -and the airline has enabled this service on its website- check in online. You will avoid queues at the airport, you will have more guarantees for possible overbooking and most importantly: you will be able to choose your seat.
A 14-hour flight fitted in the seat of a 777 in the middle of the day can be worse than a cinema-forum with Chuck Norris' complete filmography. Depending on the company's policy, the usual time for checking in online is between 24 and 48 hours before the flight.
To think that the cheapest ticket is the cheapest
The usual is to throw us buy the cheapest ticket without paying attention to the product specifications. For example, do I carry more than one suitcase and I'm going to get a slash for checking in the second one? Does the plane land at a secondary airport in the city and the transport to the centre is going to cost me more than what I save?
The flight arrives at dawn and there will be no more public transport, so I will have to pay for a taxi? The cheapest ticket is that of an all-inclusive company famous for cancelling flights whenever it feels like it? Am I 100% sure that I will not have to cancel or reschedule the ticket I bought months in advance?
Because sometimes for a few euros more you can get a more flexible fare that avoids losing the total amount already paid. In aeronautics, more than ever, the cheap can be expensive.
Trust the offer of the first search engine
Flight search engines do not always offer the best fares. Check the websites of the airlines themselves as well. It can happen that you do get a discount on a flight search engine, but then you are charged for additional services or commissions that you would not have to pay on the official website. Always check the possibility of special and reduced rates when flying in large groups.
Do not value timetables and stopovers
If you fly once a year for a month's holiday, you might not mind flying halfway around the world with three stopovers of six hours each to save 80 euros. But if you fly often I find it interesting to consider this kind of thing. Going from Spain to South America via Asia is a very tiring trip (apart from being stupid). Check the duration of the stops for each ticket and decide accordingly.
Another issue is the timetables for transoceanic flights. Whenever you can, choose night time schedules because it will be easier for you to sleep in flight and fight jet lag when you arrive. On a 12-hour daytime flight to the east you will lose a night and your biological clock will need several days to recover from jet lag. There are already applications for the mobile phone that calculate the best combinations to avoid jet lag, such as Jet Lag Begone.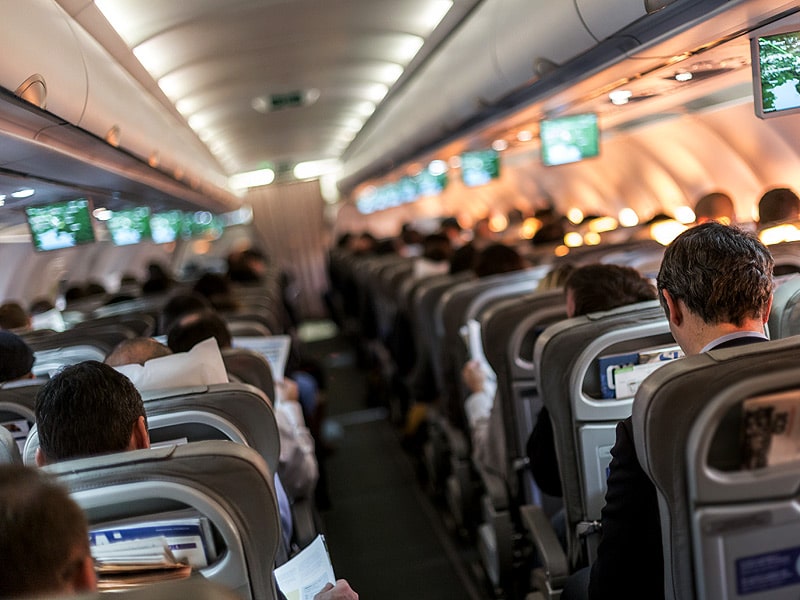 Flying dressed for a date
I've never put up with people walking around airports in Bermuda shorts and tank tops, but you don't have to go up in stilettos and tube skirts or jeans two sizes too small.
Choose well the clothes you will wear during the trip, that are comfortable and loose. In addition, air conditioning is usually set up on planes as if to scare a penguin. Always carry a jacket or something lightweight, even if you are going to the Caribbean.
Traveling loaded like a Christmas tree
Sometimes I am amazed when I see passengers in a hurry in the corridors of an airport who lack hands to carry things hanging: the laptop on one side, the camera on the other, the bag, the carry-on bag, the duty free gifts, the Starbucks coffee, the magazines… and the passport and boarding pass sticking dangerously out of the back pocket of the pants.
They lose something, all right. Group the packages as much as you can, keep the minimum hanging. And always put your passport and boarding pass in a safe place, don't carry it in your hand.
Arriving well in advance at airports (the first sign of old age)
Not all airports are the same. This may seem like a truism, but it's important when it comes to managing your check-in time.
The airlines usually set an estimated time for check-in and boarding (three hours in the case of international flights) which seems to me, in most cases, excessive.
Wait for check-in to ask for an emergency exit seat
What a dreamer! That's history now. Almost every airline has learned to make money off those special rows that have more legroom. They are usually offered at the online check-in with a surcharge, which can be a few hundred euros in the case of transoceanic flights. Value it and if you are worth the price/comfort ratio… don't cut yourself off.
Not closing the suitcase properly
In theory it shouldn't happen… but sometimes it does (so that we are not fooled!): you arrive at your destination and something has been stolen from your suitcase. I always close it with plastic ties, but a padlock works too.
Not that it's inviolable, but at least you have the placebo of thinking that they'll go for the one of a little fool who didn't read this post and didn't put a lock on it. You can also wrap it up like a mummy in the plastic shrink-wrap services that have become fashionable in airports, although I don't particularly like them.
Distrusting chemistry
This is not an incitement to spread psychotropic substances – spare me the thought of that – but a little help to sleep on long flights is always welcome – that's why we invented chemistry!
I have not consulted a doctor about it, but I am sure there is less harm to one's health in a pill that helps one to sleep than twelve hours of insomnia squirming away in a cramped Economy Class seat. There are soft ones -such as Dormidina- that are sold in pharmacies and do not need a prescription; the heavier ones require you to tell your family doctor first.