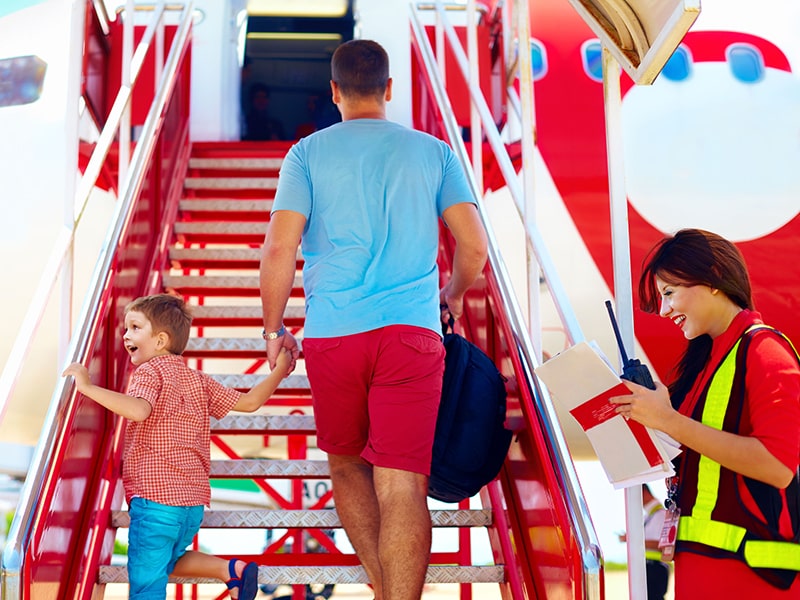 Travelling with children in an airplane means planning our trips differently, as we have to take into account some preparations and, moreover, it is our task to entertain them during the trip so that it does not become a long and tedious situation, both for them and for the rest of the passengers. If you don't want to give up travelling as a family, follow these tips. Welcome on board!
Planning: Preparing for air travel with children
Before purchasing reservations, we recommend that you review the policies and conditions of the airlines for traveling with children and choose the most convenient according to the fares, seats or preferences that families have compared to other passengers when traveling.
When purchasing tickets, make sure you select the correct type of passenger, taking into account the age of the passenger at the time of the flight. There will be travellers who change from one category to another during the time that passes between the reservation and the trip.
These passengers must make two separate one-way reservations for each age group. For example, if an infant travels from Madrid to Paris and turns 3 during the trip, he or she must have a ticket as an infant Madrid-Paris and another as a child between the ages of 2 and 11.
On the other hand, don't forget to keep your children's travel documents up to date. The best of 14 years old are not obliged to travel with an ID card, but they only need a family book. However, for trips outside Spain they will need this or other documents depending on the destination:
European Union: DNI
Outside EU: ID card, passport and/or visa
In the event that children are to travel by plane alone or without their parents, the latter must carry a notarized document with the child's personal data together with their photograph. This must include the parent's or guardian's authorization to travel and a formalized authorization from a police department.
The age of the child will also influence the shape or seat in which he or she will travel. Although children under two years of age can travel on an adult's lap, they must book their ticket by indicating their date of birth and their name. Once inside, they will have to travel in our arms and the staff will provide us with a special belt to hold the child.
Children under 2 years old can also book their own seat on the plane if they use an Amsafe CARES restraint system or an approved car seat (EU quality label,ECE R44/03 or ECE R44/04). Cradles are available on intercontinental flights. However, in all cases, during take-off and landing, the baby must be placed in the lap of the accompanying adult.
If the baby is travelling on the adult's lap, there is no need to notify the airline in advance. However, if the baby is going to use the Amsafe CARES restraint system, an approved seat or a cot, you must contact the airline in advance of the flight.
We recommend that you prepare your hand luggage with everything your child may need during their flight, such as some food, a drink to keep them hydrated, a change of clothes in case they get dizzy, a blanket, wipes, nappies, a bottle, a pacifier, a cushion and various games with which to entertain themselves.
If you travel with babies on the plane, you can take, in addition to the containers in the transparent bag, liquid food such as milk, water or juice in a bottle, and food (mash, pap, etc.). Dietary products or medicines are also allowed. Please note that you may be required to provide prescriptions, information or medical reports.
Planes are usually equipped with changing tables, although when it comes to heating up the baby's food or drink, some companies do not have the right system, so it is useful to carry a thermos.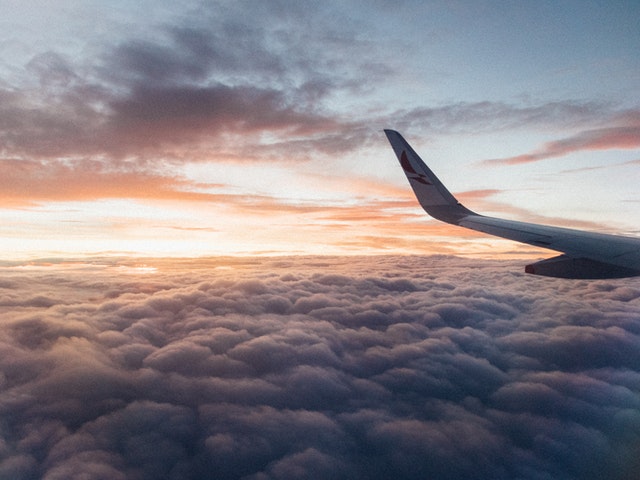 You should also give your baby something to eat at the right time for take-off and landing. This way you will avoid the baby's ears getting blocked due to the change in pressure and that he or she feels uncomfortable during the trip, as well as having a calming effect.
Once at the airport: Getting around with the kids
If you're going to check in, go to your company's counter. Folding strollers, baby carriers, child seats or folding cribs do not need to be checked in, but you will need to go to the check-in counter to label them.
These items can be transported to the aircraft stairs, where staff will pick them up and place them in the aircraft hold. It is advisable to fold them correctly and protect them with a suitable cover. When the plane leaves, they will be delivered to us in the same place or transported to the conveyor belt together with the rest of the checked-in luggage. Furthermore, when passing through the security control, you will have to fold the trolley to be scanned by the conveyor.
You can carry your baby's meals in your hand luggage, but you must show them at the checkpoint. Until the departure of the flight, look for the children's play areas. In large airports you can even find microwaves, bathtubs or cribs. You will also find pushchair dispensers in case you have checked in yours.
Once at the boarding gate, families are given preference when boarding. If your child is older, reserve a window seat, he or she will love the view from the heights.
The Journey: Making Air Travel Easier for Children
Now we will give you some advice on how to entertain the children during the flight so that it is as pleasant as possible for them and for the other passengers, and thus avoid crying due to boredom or tiredness, which are so annoying for the other passengers and so embarrassing for the parents.
First of all and as we mentioned before, it is advisable to give the child something to drink or eat during take-off and landing, since this way we will avoid his/her ears hurting due to the change in atmospheric pressure.
Once in the air, accompany him on a reconnaissance tour of the plane; you can take advantage of this to explain to him how it works and the role played by each member of staff on board. Once back in the seat, encourage him to look out the window, he will probably be distracted for a while, but be careful, because he might get dizzy from the swaying of the plane as he flies.
When he thinks he's had enough of the view for the moment, he'll ask you for some more entertainment. Therefore, we recommend that you go well equipped with stories, books and crafts. One option is to bring paper and colored paints and ask him to paint or draw what he wants or about a story. It is also very interesting to look for some kind of transportable craft, such as beads to make necklaces, a badge for your backpack or a gift for the hostess.
Children and technology go hand in hand, so a very good idea is to create with paper and other elements that we have at hand masks, hats, glasses or moustaches, for example, to dress up and take pictures. In this way, you will be entertained by creating and at the same time you will stimulate their imagination.
And since you have the device at hand, what better than relaxing him with a game, film or music and putting him to sleep for a while before landing.