Tips for travelling with children on a plane
The good time has come to stay and summer is just around the corner.
If you are thinking of a holiday destination to go to with your little ones, from the Aerobús blog we offer you some tips for travelling with children by plane, and make the journey as easy and light as possible for everyone.
Preliminary advice
Have you told your little one yet that he's going to travel by plane? If not, explain it to her with a story in the previous days so that she is familiar with the trip you are going to take.
An important thing to consider before a plane trip with children is to take them to the paediatrician for an ear examination. A small swelling can become a very painful problem for the child during the flight.
If you're going to give your child medication to help him or her travel more easily – always prescribed by a doctor – try giving it to him or her a few days before the trip to see how he or she responds, don't leave surprises for the day of the trip. Also, if your child needs his own medication, always carry the prescription or a copy with you.
Both at the airport and in the country of destination you can ask for it. If you don't take it with you, you run the risk of not being allowed to pass it on, and if it is essential medication such as insulin, certain pills, etc., the holiday can turn into a real nightmare.
Remember to always carry all the necessary documentation. If you are travelling within Spain, you can take only the family book, which is valid until the child is 14 years old; but if the trip is international, you must always take your passport in order.
Last but not least, you should get a good rest before you travel. If an airplane trip can be tiring for an adult, imagine it for a child.
At the airport
It is important that you arrive at the airport some time in advance so that the children can release all their energy before boarding. Many airports have playgrounds for children. Otherwise, the airport itself is a place of discovery and fun. Let them run and play, it is better that they do it on the ground than in the middle of the flight.
An interesting activity within an airport for the little ones is to watch the planes take off or land. And before boarding, remember to take him to the bathroom. Airport toilets are much better equipped than those on planes, and any changes the child needs will be much quicker and easier at the airport.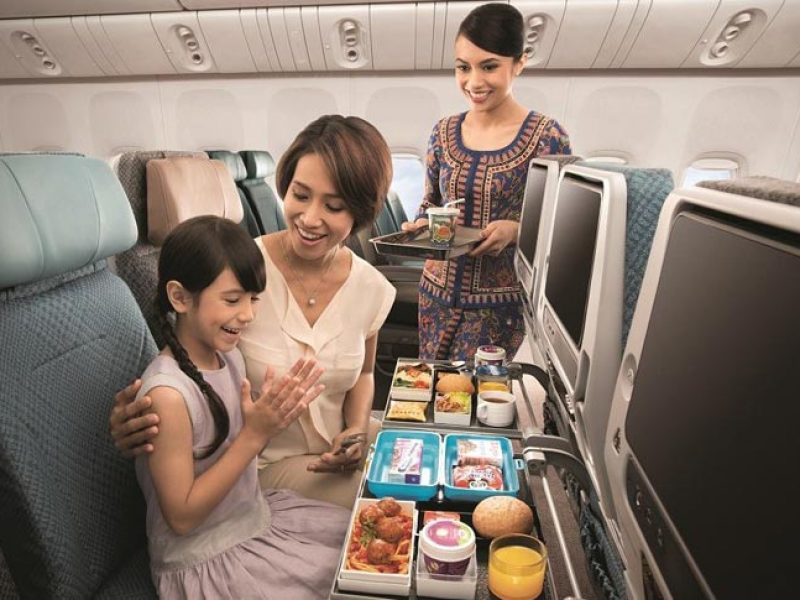 On the plane
Ideally, the child should be able to travel in his or her own seat with the corresponding adapter, although this implies an increase in the price of the ticket. Clothes are another fundamental aspect; it is essential for any traveller that clothes are comfortable, and even more so for children; that is why it is recommended that they are dressed in cotton clothes, as in addition to being comfortable, this type of material helps to ensure that temperature changes are not so sudden.
Since the children's attention does not last more than fifteen minutes in a row, it would be advisable to think of several activities to do every quarter of an hour: Like taking paints and notebooks to color, an ipad with games or their favorite movies, and some food, like cookies or candy. But beware of excess sugar, we can overexcite them and we would get just the opposite effect to the one we are looking for.
If you can, choose the seats beforehand, so you can sit near a bathroom for what might happen. Also, sitting your child on the window seat and being able to see the sky and the clouds is usually an interesting distraction.
If at any point during the flight your child starts to cry, don't lose your temper. Losing control of the situation will only make the child more nervous and cry more, which will make the other passengers uncomfortable and show their discomfort with the situation.
Both take-off and landing are quite critical times for the little ones. They still don't know how to unclog their ears by swallowing saliva, so it's advisable that they can eat something during that time, candy or gum if they are a little older. If it's a baby, take advantage of this time to breastfeed, as this is the best way to protect their little ears.
Without a doubt, traveling with children in an airplane can be tedious, but remember: the success of any trip with children is in the organization.
We hope these tips have helped you and that you enjoy a great flight with your little one. From Aerobús we remind you that we take care of taking you from Barcelona to El Prat airport, or picking you up from your flight and taking you to the city, in just 35 minutes.